CORD Algebra 2:
Learning In Context, 2nd Edition
Grade Level : 10-12
Copyright 2014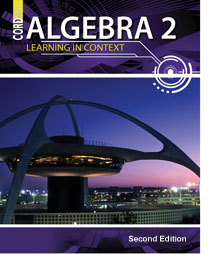 CORD set the standard by creating the first truly contextual-based Algebra 2 textbook in 2008. Now Common Core Standards are requiring that all mathematics be taught in a manner that is "robust and relevant to the real world, reflecting the knowledge and skills needed for success in college and careers." CORD has been putting that idea to work for over 30 years.
Just in time to meet these new standards, the experts in "performance task" based learning announce the launch of CORD's Algebra 2: Learning in Context, Second Edition digital textbook – the guideline to strengthening those "real-world" concepts and proving more students can be successful in math.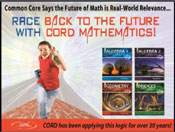 Take A Tour
Click here or on the image to the left for a brief tour through the features and benefits of CORD's textbooks.
Contact us today and see for yourself how the nation's leading experts in contextual teaching have perfected the ideals of Common Core.

NEW All Digital Textbooks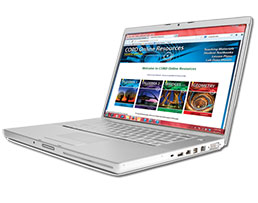 CORD's Learning In Context mathematics materials have gone digital. The same proven hands-on learning only in electronic format.
Competitive pricing
One to six-year license options
Compatible with all platforms and personal e-readers
Pilot programs available
Contact Us Today for your preview access to the teacher's material or for more information on pilot programs.
Complete Digital Ancillary Package
Chapter Resource Material with valuable Practice, Reteaching and Enrichment worksheets. Reproducible
Lab Data sheets
Teacher Lesson Plans – download and edit for your specific class needs

Unique Features and Benefits
Contextual approach improves content retention; perfect for fulfilling Common Core's "Performance Task" based requirements
Addresses different learning styles to help MORE students learn algebra 2
Workplace Applications, real-world examples, labs and activities fit perfectly with the Common Core Standards mission statement of: " The standards are designed to be robust and relevant to the real world, reflecting the knowledge and skills that our young people need for success in college and careers."
The ideal learning tool for STEM Academy courses
All new software generated assessment: powered by ExamView™
Labs written to include use of TI-Nspire™ calculator
Annotated Teacher's Wrap edition provides helpful hints and ideas for the teacher
Correlates to current Common Core, state and NCTM standards (See link below)
Teacher resources available on CD-ROM
Contains English/Spanish glossary of commonly used math terms
All digital format ends textbook replacement expenses
Flexible licensing options: 1-to-6-year agreements
Contents:
Fundamentals for Algebra
Exponents & Complex Numbers
Functions
Quadratic Functions
Exponential & Logarithmic Functions
Polynomial Functions
Rational Functions
Systems of Equations & Inequalities
Sequences and Series
Trigonometric Functions & Identities
Probability & Statistics
Conic Sections
New and Revised Lessons On:
Operations with Complex Numbers
Solving Quadratic Equations that Have Complex Solutions
Graphing Polynomial Functions
Normal Distribution
Population and Sampling Simulations
Making Decisions Based on Probability
Solving Equations and Inequalities
Complex Numbers
Relations and Functions
Operations with Functions
Special Functions
Transformations of Functions
Polynomials
Factoring Polynomials
Multiplying and Dividing Rational Expressions
Adding and Subtracting Rational Expressions
Complex Fractions
Solving Systems of Equations by Graphing
Evaluating Trigonometric Functions
The Law of Sines and Law of Cosines
Verifying Trigonometric Identities
Components

ISBN #
Title
Price

Online access to the Teacher's Editions and all ancillary products is complimentary with the purchase of 20 student texts online. For Home School usage, please contact CORD Communications at: 800.231.3015, ext. 375 or details@cordcommunications.com for pricing and package details.


We will no longer sell accesses to teacher materials without the purchase of a classroom of student materials.
State Standard Correlations & Supplemental Materials
Check here to see if we have correlations for your state standards or to download state-specific supplemental material for your math course.

Report Errata
CORD Communications strives to produce error-free materials. However, mistakes do happen. If you find errors in the textbook, please click here to tell us which book, page number and problem number. Provide a brief description of the error. We will look into the error and post any corrections needed to the website.