Online Accesses Now Available
CORD Mathematics:
A Contextual Approach to Algebra 1
CORD Applied Mathematics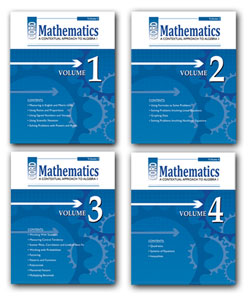 The mathematics modules that laid the groundwork for contextual teaching in the United States have gotten a facelift! In response to a request from educators in the state of Washington, CORD Applied Mathematics has undergone a complete revamp. CORD Mathematics: A Contextual Approach to Algebra 1, takes 21 individual units and combines them into a 4-volume, year-long algebra 1 course. The good news is all the references and materials have been updated. Better yet, the hands-on, real-world based problem solving that made applied mathematics so successful remains intact!
Contact us today and see for yourself how the nation's leading experts in contextual teaching have perfected the ideals of Common Core.

Features and Benefits
Updated curriculum designed to meet WASL standards
Perfect tool for STEM Academy math programs
Real-world, practical applications for students who need to see the relevance of math
Updated material for today's math students
21 modules format reduced to a 4-volume easy-to-use year long algebra 1 course.

Here's what's inside
Volume 1
Measuring in U.S. and Metric Units
Using Ratios and Proportions
Using Signed Numbers and Vectors
Using Scientific Notation
Solving Problems with Powers and Roots
Volume 2
Using Formulas to Solve Problems
Solving Problems Involving Linear Equations
Graphing Data
Solving Problems Involving Nonlinear Equations
Volume 3
Working With Statistics
Scatter Plots, Correlation and Lines of Best Fit
Measuring Central Tendency
Working with Probabilities
Factoring
Patterns and Functions
Polynomials
Monomial Factors
Multiplying Binomials
Volume 4
Quadratics
Systems of Equations
Inequalities
Components

Components

Student Materials (minimum order of 10 copies per unit)
ISBN #
Title
Price
Teacher Materials

ISBN #
Title
Price

We will no longer sell accesses to teacher materials without the purchase of a classroom of student materials.

Download
PDF - NCTM Standard correlation

Locate Sales Representative
Click here to locate your local representative.

Report Errata
CORD Communications strives to produce error-free materials. However, mistakes do happen. If you find errors in the textbook, please click here to tell us which book, page number and problem number. Provide a brief description of the error. We will look into the error and post any corrections needed to the website.