Why Do I Have to Learn This?
by Dale Parnell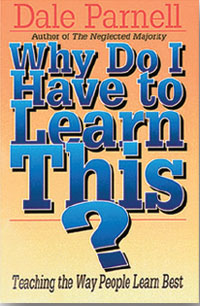 Innovative approaches to teaching, including contextual learning practice. A philosophical and pedagogical foundation for implementing applied academics from one of the foremost leaders in educational reform. Parnell offers insightful examples and proven methods for teaching with meaning.

Why Do I Have to Learn This?
(Companion Workbook)
by Sandra Harwell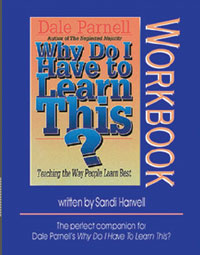 In this workbook, learn how to write contextual lessons for your
classroom, work through the four levels of learning, explore
"right-side-up education," create your own "Integrated Learning
Activities," and more! Combined with Why Do I Have To Learn
This?, this workbook is a powerful tool for in-service and preservice
programs, as well as for individual educators.

Components
1-55502-704-0
Why Do I Have To Learn This? - Dale Parnell
Call for Price
1-57837-249-6
Why Do I Have To Learn This? Workbook By Sandra Harwell
Call for Price
ER704-0 KIT
Why Do I Have To Learn This? Combo
Call for Price