CORD Algebra 1, Third Edition
Interest Level : 9-10
Copyright 2009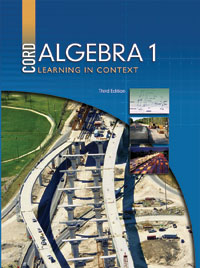 High school graduation requirements are becoming more and more challenging for today's students. The real challenge for schools is reaching those students who need to see the "real world" relevance of the math before they can learn it and be successful.
CORD's Algebra 1 : Learning In Context, Third Edition, remains the primary tool for the contextual teaching approach. By combining new rigorous math content and a hands-on approach through real-world applications, you reach more students and more students succeed.
Common Core Standard Supplements
Makes All CORD textbooks Common Core compliant
Available on-line and new book reprints
Click here to request a preview!

Lesson Plans Online and CD-ROM
Fully editable for Word and PDF formats for specific classroom need
Reproducible and FREE for all CORD math 3rd edition users
Click here to download your lesson plans today.

Features and Benefits
Addresses different learning styles to help MORE students learn algebra 1
Contextual approach improves content retention and state test performance
Workplace Applications, real-world examples, labs and activities fit perfectly with the Common Core Standards mission statement of: " The standards are designed to be robust and relevant to the real world, reflecting the knowledge and skills that our young people need for success in college and careers."
The ideal learning tool for STEM Academy courses
All new software generated assessment: powered by ExamView™
Labs written to include use of TI-Nspire™ calculator
Student text available in one-or two-volume formats
New Annotated Teacher's Wrap edition provides helpful hints and ideas for the teacher
Correlates to current Common Core, state and NCTM standards (See link below)
Teacher resources available on CD-ROM
Contains English/Spanish glossary of commonly used math terms
Book available on-line for at home access
Contextual Mathematics
The Way Students Learn Best
For a list of equipment vendors, please click here.

Contents:
Operations, Expressions and Equations
Measurement
Solving Equations
Linear Equations
Nonlinear Functions
Probability
Statistics
Systems of Equations
Inequalities
Polynomials and Factors
Quadratic Equations and Functions
Rational Functions
Right Triangle Relationships

Components

State Standard Correlations & Supplemental Materials
Check here to see if we have correlations for your state standards or to download state-specific supplemental material for your math course.

Locate Sales Representative
Click here to locate your local representative.

Report Errata
CORD Communications strives to produce error-free materials. However, mistakes do happen. If you find errors in the textbook, please click here to tell us which book, page number and problem number. Provide a brief description of the error. We will look into the error and post any corrections needed to the website.