CORD Bridges to Algebra and Geometry:
Learning in Context , Third Edition
Interest Level : 7-9
Copyright 2010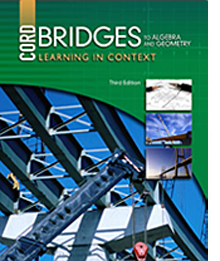 Start your students off right. The foundation for high school success is formed before students reach 9th grade.
This is the textbook that helps form a solid mathematical foundation before advancing to algebra and geometry courses. Because the usual abstract approach to teaching math ignores the learning needs of almost 2/3 of students, CORD Bridges to Algebra and Geometry, 3rd Edition, uses real-world applications, hands-on experiences and activities to help create better understanding of math basics.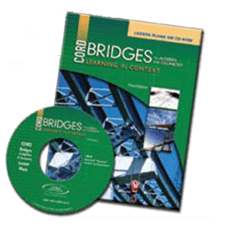 Lesson Plans Online and CD-ROM!
Word and PDF formats
Fully editable for classroom specific needs
Reproducible
FREE for all CORD math 3rd edition users!
Click here to download your lesson plans today!

Unique Features and Benefits
Multiple math labs in each chapter to get the student engaged in learning
Proven to prepare all students for algebra 1 and geometry
Real-world applications engage students
Includes skill practice problems and standardized test preparation
Continuous assessment throughout allows for review and re-teaching
Problem solving strategies are included in every chapter
Cumulative problem solving exercises help students make the connections between mathematics and the world outside the classroom
New Software Generated Assessment! Powered by ExamViewTM Windows ('98, XP, Vista) and Mac compatible
New Features: English/Spanish Glossary, Chapter Reviews, Standardized Test Practice
New Lessons on: Graphing Systems of Inequalities, Angle Relationships, Precision, Accuracy and Tolerance, Identifying Linear Functions and Non-linear Functions, Sampling, Estimating Percents
Contextual Mathematics
The Way Students Learn Best!
For a list of equipment vendors, please click here.

Contents:
Decimals and Problem Solving
Working with Data
Integers
Solving Equations
Rational Numbers
Ratio, Proportion, and Probability
Percent
Graphing on the Coordinate Plane
Introduction to Geometry
Powers and Roots
Measurement
Surface Area and Volume

Components
State Standard Correlations & Supplemental Materials
Check here to see if we have correlations for your state standards or to download state-specific supplemental material for your math course.

Locate Sales Representative
Click here to locate your local representative.

Report Errata
CORD Communications strives to produce error-free materials. However, mistakes do happen. If you find errors in the textbook, please click here to tell us which book, page number and problem number. Provide a brief description of the error. We will look into the error and post any corrections needed to the website.