Currently out of print
CORD Algebra 2, Learning in Context
Interest Level : 10-12
Copyright 2008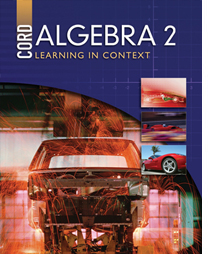 By developing CORD Algebra 2: Learning in Context, CORD has expanded its ground-breaking series of contextual-based math textbooks. More importantly, teachers are provided a tool to help the student who would traditionally struggle with math succeed and reach their full potential.
By combining real-world applications and lab activities with the mathematics being taught, students receive a more meaningful education and are better prepared for state testing… and life.
Common Core Standard Supplements
Makes All CORD textbooks Common Core compliant
Available on-line

Lesson Plans Online and CD-ROM
Fully editable for Word and PDF formats for specific classroom need
Reproducible and FREE for first edition.

Unique Features and Benefits
Engaging lessons address different learning styles to help ALL students learn algebra 2
Uses hands-on lessons to improve math content comprehension
Students see math at work in five key employment areas: Business and Marketing, Health Occupations, Industrial Technology, Family and Consumer Science and Agriculture/Agribusiness
The ideal learning tool for STEM Academy courses
Lesson assessments allow students to communicate their math knowledge through writing and discussion
Book available on-line for at home access
Standardized Test Prep gives students experience for state-required testing.
New software generated assessment powered by ExamView™. Flexible format allows for editable, material-based, pre-made tests or teacher created tests.
Takes math from abstract concepts to concrete applications to which students can better relate.
Workplace Applications, real-world examples, labs and activities fit perfectly with the Common Core Standards mission statement of: " The standards are designed to be robust and relevant to the real world, reflecting the knowledge and skills that our young people need for success in college and careers."
Correlates to current Common Core, state and NCTM standards (see link below)
Teacher resources available on CD-ROM
Contextual Mathematics
The Way Students Learn Best
For a list of equipment vendors, please click here.

Contents:
Fundamentals of Algebra
Systems of Equations and Inequalities
Matrices
Functions
Exponents
Quadratic Equations
Conic Sections
Exponential and Logarithmic Functions
Polynomials
Rational Functions
Sequences and Series
Trigonometric Functions
Trigonometric Graphs and Identities
Probability

Components

State Standard Correlations & Supplemental Materials
Check here to see if we have correlations for your state standards or to download state-specific supplemental material for your math course.

Locate Sales Representative
Click here to locate your local representative.

Report Errata
CORD Communications strives to produce error-free materials. However, mistakes do happen. If you find errors in the textbook, please click here to tell us which book, page number and problem number. Provide a brief description of the error. We will look into the error and post any corrections needed to the website.
Errata Corrections - Click here to view errata corrections.